Aging population and folate levels
During the last few years, notable works on healthy aging, have focused on ingredients such as 5-methyltetrahydrofolate (5-MTHF; the active reduced form of folate), aiming to fight against oxidative stress and its consequences on health.
Low folate levels are associated with an increased risk of diseases which may entail hyperhomocysteinemia, vascular issues, and cognitive dysfunction and could also be related to immunity. (1)
For older adults, supplementation with active folate could enable them to replenish folate levels and counter the variety of physiologic changes that influence folate status.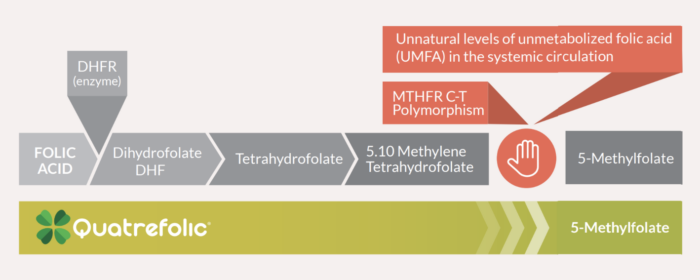 Quatrefolic® bioavailability is not affected by multi-steps process of conversion and by metabolic defects typical of folic acid, such as the polymorphism of the enzyme MTHFR.
Quatrefolic®, the salt of glucosamine 5-MTHF, ensures the right dosage of biologically active folate and allows the full enjoyment of the golden years.
Active folate and proven benefits for elderly
Hyperhomocysteinemia is a risk factor for the onset of several diseases associated with aging (i.e. cardiovascular diseases) that can subsequently affect the healthy life expectancy of older adults.
The incidence of hyperhomocysteinemia in the elderly population is significant while the concentration of folate in the cerebrospinal fluid decreases with age, particularly in adults over 70 years of age. (2)
5-MTHF was shown to support brain function and offers a clinically proven reduction and normalization effect of homocysteine. (3)
Since Quatrefolic is a 5-MTHF that is highly soluble and bioavailable (4), this could help you maintain an adequate level of plasma folate and age well.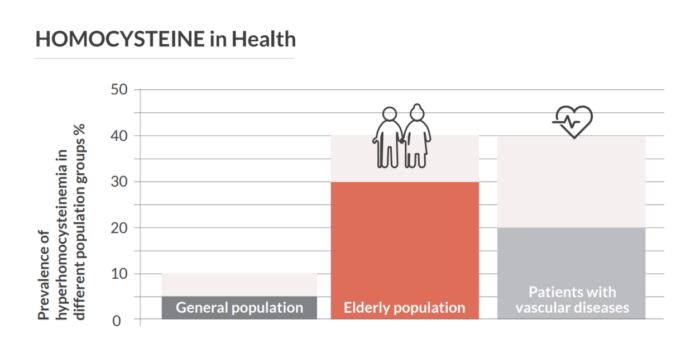 References:
Stover PJ. Folic acid. Folic acid. Modern Nutrition in Health and Disease. Lippincott Williams & Wilkins: Baltimore MD, 2012
Tinelli C, Di Pino A, Ficulle E, Marcelli S, Feligioni M. Hyperhomocysteinemia as a Risk Factor and Potential Nutraceutical Target for Certain Pathologies. Front. Nutr. 2019; 6:49
Ambrosino P, Lupoli R, Di Minno A, Nardo A, Marrone E, Lupoli V, Scaravilli A, Mitidieri E, Tufano A, Di Minno MN. Cyclic supplementation of 5-MTHF is effective for the correction of hyperhomocysteinemia. Nutr Res. 2015 Jun;35(6):489-95. Zappacosta B, Mastroiacovo P, Persichilli S, Pounis G, Ruggeri S, Minucci A, Carnovale E, Andria G, Ricci R, Scala I, Genovese O, Turrini A, Mistura L, Giardina B, Iacoviello L. Homocysteine lowering by folate-rich diet or pharmacological supplementations in subjects with moderate hyperhomocysteinemia. Nutrients. 2013 May 8;5(5):1531-43.